Cat Mother – A Picture Book with a Magical Story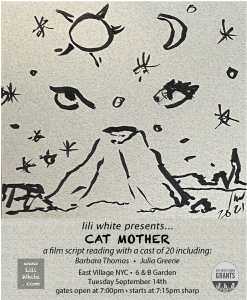 ISBN: 9798218076917 (see illustrations below)
This work was executed during the COVID pandemic, and was written for adults; and also occurs in film and theatrical script forms.
Cat Mother is available for purchase at Barnes & Noble, Athenaeum Boekhandel, Amazon, and other bookstores.
Illustrations for CAT MOTHER were on view at Tompkins Square Library from October 17, 2022 to November 30, 2022.
A lecture-presentation took place on Saturday, October 29th 2022.
STORY SYNOPSIS:
MUCH of life is unseen, unsaid…
Mourning her husband's death from COVID 19; Geni, childless, asthmatic, a 60+ artist, sinks deeper into depression upon the demise of her beloved pet cat. Drawing brings on an uncanny experience: the materialization of a hybrid feline, the Amandapuss, who appears periodically, culling consciousness.
Attempting to re-group by visiting Anasazi ruins, dangerous conditions thwart her. When a desert storm sweeps away her backpack and dependable inhaler, Geni gives chase. Walking down a slot canyon to return home, confrontations ensue as she encounters greedy ranchers fighting over land, an emotionally abused boy, and others who pin down her contempt with humanity. Meeting a mermaid, her parental ghosts, and talking animals, Geni evolves.
Escape rising flash flood waters, she swims the UNIFIED FIELD of ancestral energy and love, and re-connects her to life. Geni realizes the cat spirit of the puma has mothered her into completion.
______________________________________
NOTE: all rights reserved under copyright.
ARTIST'S BIO:
Since 1978, LILI WHITE has been exploring collective memory, history, origins of energy, and primacy of dream states, through her painting, sculpture, installations and over 100 moving image works. White is a graduate of the Pennsylvania Academy of Fine Art's four-year studio study in painting; with a BFA from the University of Pennsylvania.
Three fully realized, multi-media theatrical works that integrated poetry, dance, music, video and 15 theatrical actors and dancers, were staged in Philadelphia Pennsylvania in the early 1990's. White re-located to New York City in 1994 and was vetted into The Snug Harbor Studio Program that give their artists extensive presence in NEWHOUSE GALLERY shows, for 5 years. A year-long residency at PS 122 began in September 2001 shortly after the WTC bombing. One person shows took place at THE ART LAB on Staten Island in 2002; and at Chi:An Art Space in Williamsburg Brooklyn in 2003.
In 2004, her lecture-presentation INVISIBLE ENERGY: ASIAN ART INFLUENCES IN MY WORK, was delivered at a College Art Association Panel chaired by Mernet Larsen. Her mixed media works on paper featured calligraphic ink execution and changeable luminous surfaces; and were curated in numerous juried shows by Issac Witkin, Jane Wilson, Frances Barth, Donald Kuspit, Ursula Von Rydingsvard, Carlotte Kotik, Dan Cameron, and Jenny Snider and others, during the early 2000's.
Her experimental film-making expanded with the rise of new computer editing programs. In 2004 Zhu Denis presented her work in solo shows at the Doulun Museum of Modern Art in Shanghai and Beijing's 25000 Cultural Transmission Center. A feature essay film, FOOL'S GOLD: CALIFORNIA ROADTRIP in an ELECTION YEAR, portrayed American "greed." It received a NY State Council Finishing Funds Award and screened at NYPublic Library's MEET the MAKER Series in 2013. An earlier feature, NY(see) screened at 2 BOOTS PIONEER THEATRE and an excerpt was presented in 2007 at the RIVER to RIVER ELEVATED ACRE Movie Nite, curated by Tal Yarden. White's installations incorporate painting, assemblage and video; and several were seen at THE VISION FESTIVAL curated by Patricia Nicholson Parker.
GOT'CHA's paintings and a table top installation, philosophized a tape glitch, to reveal psychic happenings. It was included in WHOSE AFRAID OF ORNAMENT? by Natasha Kurchanova at NutureArt in Brooklyn in 2010. Ed Woodham's Art in Odd Places projected CLOUDGATE on the sidewalk outside the East Villages's Phatory Gallery with support from Sally Lelong.
In 2007 and 2010 her films were curated by Howard Guttenplan for MILLENNIUM FILM WORKSHOP and by Peter Cramer and Jack Waters for le Petit Versailles Garden. Several videos served as the core of a JUMBLETRON 'sculpture' for the CUBED LUMINOUS SHOW at the Pensacola Museum of Art in 2018; curated by Kera MacKenzie, Andrew Mausert-Mooney, and Joseph Herring.
From 2012-15 she served as an elected BOARD Member for MILLENNIUM FILM WORKSHOP whose archive was purchased by NY's Museum of Modern Art. Sculptures based in I CHING ALCHEMY were exhibited on the grounds of le Petit Versailles Garden; where she had painted Chinese ideograms in gold, onto the environs in 2015. These works were also curated by Carolyn Radcliffe, for Theatre for the New City; in 2018 & 2019; and Professor Katie Deli Kaufman of The Corcoran College of Art & Design, curated the same sculptures, into the MARYLAND FEDERATION of ART's, EYE OF THE BEHOLDER SHOW in 2019.
Several human silhouette shooting targets, altered with collaged news stories and mixed media materials, first developed in 1980, were included at HAVEN SBX in 2016, by Barry Kostrinsky, in a show entitled FEAR. He had shown White's abstract works on paper there, in 2006. More recently, newer target works realized during a 2017 CARTER BURDEN Residency, were shown in the Leonard Cavello Artspace organized by Liz Curtin; at El Barrio Artspace PS109 curated by Olivia Beens; at THE UNTITLED SPACE's ANGRY WOMEN UPRISE by Indira Cesarine; at CERES GALLERY's 13th InterNational Exhibition juried by Sara Softness, an Assistant Curator at The Brooklyn Museum; and in a grassroots initiative led by Patrick Gannon & Adrienne Amundsen at the Museum of International Propaganda in San Rafael California, whose show was titled, AGAINST TRUMPISM: THE ART & POETRY OF RESISTANCE.
The 2nd RIGHT target served as a projected backdrop for an evening of readings curated by Holli Harms, in CONVERSATION in AMERICA: UNDER the GUN. It was sponsored by the Women in the Arts & Media Coalition.
In 2019, The Film and Video Poetry Society's director, Jesse Russel Brooks, presented IMAGINING BACKWARDS: A PUBLIC DIALOGUE WITH ARTIST AND EXPERIMENTAL FILMMAKER, LILI WHITE and screened several video works in the Los Angeles Center for Digital Art's show, ANALOGUE SUN, DIGITAL MOON.
As an activist, she has maintained a dedication to presenting artist's work, founding, curating and presenting live screenings at Anthology Film Archives, from 2010 till the COVID epidemic under her ANOTHER eXperiment by WOMEN FILM FESTIVAL (aka, AXW). It received a Fractured Atlas Fiscally Sponsored Campaign and a LMCC's MCAT Arts Fund Grant. After screening four or more group shows per year for 10 years, its web-site maintains an archive of all program notes, features streaming shows; and now has a WIKI page as well. White's curations screened in Spain, Brazil, The NY Film-Makers COOPerative, and Greenpoint Film Festival.
During the COVID lockdown she wrote narratives that were transcribed as print, film, and multi-media theatre scripts. In 2021 a City Artist Corps Grant supported a live reading of her feature script, CAT MOTHER, at the 6th & B Street Community Garden, where 20 actors playing multiple roles were paid and tread the boards for the first time since the pandemic. A short script, THE PINK STONE, was a finalist in DIAMOND EYE and the GOLDEN Shorts Film Festivals.
In 2021, Jeffrey Cypers Wright included THE KITCHEN SINK, in his BLINKFEST: FILMS FROM THE ALTERVERSE, one of Howl Happening's "& Friends" TV SHOWS. A similar film, EVERYTHING, BUT won THE BEST FILM AWARD about sustainable agriculture, at the 3 FEST in South Bend, Indiana in 2011.
In 2022, A PHILADELPHIA STORY, was juried into the INTERNATIONAL SHORT FILM FESTIVAL in DETMOLD Germany. This film was included in Austria's ArtFem.TV collection of women filmmakers by Evelin Stermitz in 2020.